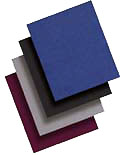 The inside display panels are covered with plush Velcro ready Prelude Fabrics available in Blue, Black, Burgundy and Silver.


Photos, charts, signs or other visual elements may be attached to the fabric by simply attaching Velcro adhesive fasteners to the backside.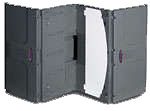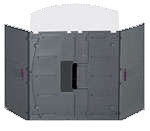 The unit ships with a 8" x 24" white arch-top header for your corporate logo or headline.Four attachment tabs allow you to attach the header securely in seconds. After the presentation, the header easily packs away into a special indentation located on the panel's backside.

Exclusive hideaway handle grip

Push down to show, pull up to go.
Disappears while display is in use.


The case morphs into a large 48" x 24" display after flipping up 2 latches and unfolding.